At St Andrews, we believe in providing our students with a well-rounded education that extends beyond the classroom. That's why we offer a diverse range of clubs, activities, and service opportunities to enrich their educational journey.
These experiences help our students develop new skills, make lasting friendships, and deepen their understanding of the world around them.
Here's a glimpse of the exciting opportunities available to our students. Please note that some opportunities may be subject to change, exclusive to certain students, or specific to particular year levels. Updates and invitations for participation will be directly communicated to students or emailed to parents.
Junior School 
Lego Brickbuilders
Debating
Chess
Esports
Premier's Reading Challenge
Readers Cup
Queensland Association of Mathematics Teachers (QAMT) Competition
Australian Mathematics Competition (AMC)
ICAS Competitions
MTLAQ Japanese Speech Contest
Japanese Club
ANZAC Day March
Art Club
Connection Club
Student Representative Council
Caught You Caring Group
Student Led Clubs
Library Lunchtime Activities including: Lego, Bee Bots, Coding (iPad), Construction, Drawing, and Chess
There's something at St Andrews for everyone! The cocurricular activities and clubs have offered me the opportunity to follow my passions and prepare myself for the future in fun and interesting ways as well as help me grow into the best version of myself.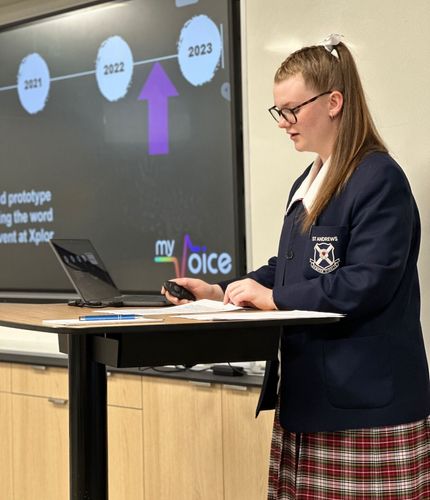 Secondary School 
Debating
Chess
Esports
Premier's Reading Challenge
Readers Cup
Write a Book in a Day
Opti-Minds Challenge
SlammED! Poetry Competition
Australian Mathematics Competition (AMC)
ICAS Competitions
MTLAQ Japanese Speech Contest
Education Perfect Language Competition
ANZAC Day March
Aged Care ANZAC Day Service
Rosie's Service and Sleep Out
Currumbin Community Special School Service
Leo's Club
Fearless Futures - A Summit for Female Changemakers
Cooking Club
Textiles Club
Hydrogen Grand Prix
Fiction Club
Minecraft Club
Dungeons and Dragons Club
Library Activities including: Makerspace Pop Up, Citizen Science Pop Up
Sharemarket Club
Innovate and Create (IC) Entrepreneurship Proigram
Young Entrepreneur Summit
Ideas Incubator Day - BOP Industries
Transforming Transport Youth Incubator
Maker Project with Southern Cross University
Discover more at St Andrews