The Junior School Library is a vital resource hub dedicated to meeting the ever-changing needs of our Junior School community.
We provide a rich collection of curriculum-based resources, literature, and recreational materials in various formats. Our wide range of fiction and non-fiction collections, curated with an international perspective, is specifically designed to support the International Baccalaureate Primary Years Programme (PYP).
Empowering Reading Excellence with Literacy Pro
Literacy Pro is a research-based online assessment resource that supports our Year 4 to 6 independent reading program. Literacy Pro is powered by the Lexile framework based on over twenty years of research. This valuable tool measures two critical aspects relevant to reading comprehension development:
Student Reading Ability: Through the Lexile test, we gain insights into each student's reading level.
Text Complexity: The analysis of Lexile levels for books and other texts.
Embark on a Journey of Exploration
The Junior School Library warmly welcomes students from the Early Learning Centre through to Year 6, inviting them to browse, read, interact, and undertake research. To facilitate a comprehensive learning experience, our students have access to various forms of technology throughout the school day. Our library buzzes with vibrant displays, showcasing student work, captivating photographs, author information, upcoming events, special themes, and displays created by our talented student monitors.
Embrace the Power of Technology
At The Junior School Library, we embrace the role of technology in education. We provide a diverse range of technological resources that are accessible to students throughout the school day. Our students can effortlessly connect to the school network via wireless access, allowing them to explore, collaborate, and leverage digital tools to enhance their learning experiences.
A Team Committed to Student Success
Our Junior School Library is staffed by a qualified full-time Teacher Librarian who plays an integral role in curriculum development, teaching, and training across the Junior School. Supporting the Teacher Librarian are a full-time Library Aide and a part-time Library Technician, responsible for overseeing the borrowing and processing of resources. We provide specific user guides, resource lists, and featured resources tailored to the needs of our users. Our dedicated library staff is committed to assisting students in becoming independent inquirers, nurturing their own learning, and developing vital information literacy skills aligned with the IB's Learner Profile and Approaches to Learning.
Our library has lots of different books to read and it's a good place to visit. We can do different activities and we can use the computers to find books that have information about our unit of inquiry, or even just something we want to know.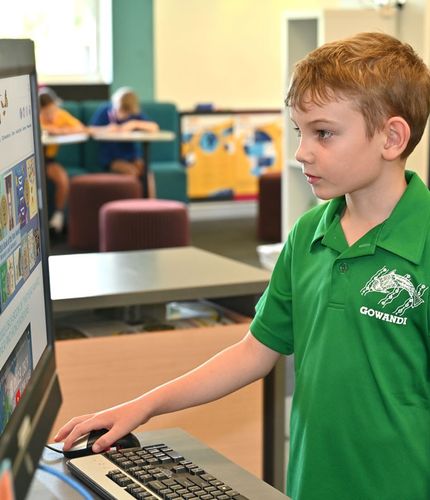 Fostering a Love for Reading and Literature
At the Junior School Library, we actively promote reading and literature through a range of engaging programs and the promotion of new literary works. Every week, each class from Prep to Year 6 has a library session led by our Teacher Librarian, where students delve into the magical world of books and expand their literary horizons. We also extend a warm welcome to volunteers who are passionate about fostering a love for reading and supporting our students' growth.
Library Use and Borrowing Made Simple
We believe in encouraging a culture of exploration and discovery. Students are encouraged to borrow resources at any time during the school day. Most resources are available for a one-week loan and can be renewed, allowing ample time for deep dives into knowledge and imagination. Depending on the year level, students can borrow up to four resources simultaneously, empowering them to embark on exciting intellectual journeys.
Join us at the Junior School Library, where knowledge meets imagination, and curiosity leads to extraordinary discoveries. Let us be your guide as we embark on an exhilarating quest for lifelong learning and personal growth.
Discover more at St Andrews