The Secondary Library, located in the Cecile Ryan Centre (CRC), is thoughtfully designed to meet the evolving needs of our students, fostering an environment that upholds respect, diversity, individuality, and equality for all. With a strong emphasis on student voice, the Secondary Library provides safe and inclusive spaces where everyone feels welcome.
Active Student Involvement
We believe in empowering our students, and their active voice is central to the development of our fiction and non-fiction collections, available in a variety of formats such as printed books, digital resources, graphic novels, audio-books, and magazines. This inclusive approach not only encourages a love for reading but also supports students' learning needs. Our collection development is an ongoing, intentional process that aims to offer windows into others' lives while reflecting the experiences of our diverse student body and community.
A Hub for Creativity and Engagement
Beyond academic resources, the library space serves as a hub for creative activities outside of class times. Co-curricular activities within the Secondary Library are driven and led by students, allowing them to explore their interests and passions. Our current offerings include engaging opportunities like Readers Cup, Minecraft Club, Esports (including FUSE Cup and League of Legends), Dungeons and Dragons, Creative Writing and Book Club, and the Awareness Committee. Additionally, students can enjoy popular features such as pop-up zen stations, jigsaw stations, and craft activities, many of which take place in our fully equipped Makerspace. These activities encourage creativity and collaboration.
The new library space is really great. It's so interactive and there are always lots of interesting things to do. It's a great space to meet up with friends and hangout. I enjoy being in the space as it helps with my learning.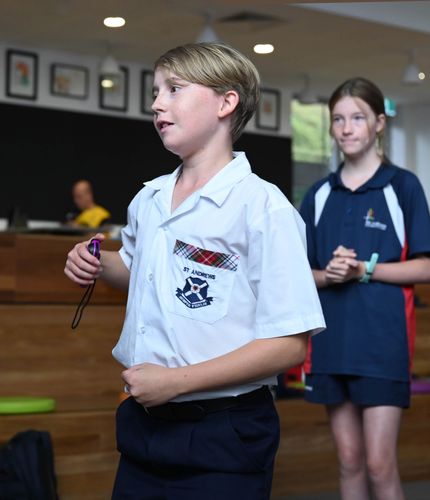 A Team Committed to Student Success
We ensure that every student feels a sense of belonging and value. Our dedicated team consists of a Teacher Librarian, who is readily available to assist all students with the research process, academic integrity, and ethical resource use. We also have multiple library personnel who are here to support students with any inquiries and literacy needs. Our commitment is to your success and growth as lifelong learners.
Library Opening Hours
To accommodate the busy schedules of our students, the library is open from 7:30 am until 5:00 pm on weekdays during term time. Please note that access before and after school is only applicable to students in Years 7 to 12. We invite you to make the most of our dynamic and welcoming library space as you explore, learn, and thrive at St Andrews Lutheran College.
Discover more at St Andrews