The Early Learning Centre operates age-appropriate programs in keeping with the existing overall College Mission of Celebrating the Gospel, Nurturing the Individual, and Empowering Lifelong Learners.
The Early Learning Centre is a natural play-based environment, where the program is based on the children's needs and interests, and the learning is embedded into all activities and experiences. Our educators and staff work very hard to establish and maintain respectful and trusting relationships so that children's learning is enhanced and supported.
Using the Early Years Learning Framework and the Queensland Kindergarten Guidelines, the program is balanced with child-led and teacher-initiated learning that engage children in an environment that promotes curiosity, creativity, and confidence. The educators and staff promote inclusive learning and play spaces that prompt questions and engage children in technology and learning. They use open-ended questions and use their knowledge and understating of the children to provide a program that enriches their learning. As part of this, the children's voice is listened to and used to enhance learning and play opportunities.
The College Pastor visits regularly to support the Christian Ethos of the Early Learning Centre. The students also engage in Japanese lessons which are taught by the College's Japanese teacher.
I like watering the plants and seeing them grow, and playing with Eli.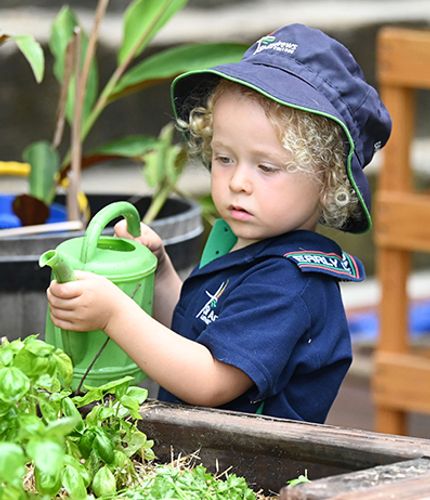 Relationships matter in the Early Learning Centre and College students regularly visit to engage in meaningful learning experiences, promote strong connections with the College community and develop friendships. This facilitates a smooth transition to Prep.
As Parents are partners in their child's learning, they are encouraged to be actively involved and contribute to the learning environment to build strong
relationships and partnerships.
At the St Andrews Lutheran College Early Learning Centre, we focus on the whole child, educating their hearts, minds and hands, preparing them for today and the future.
Discover more at St Andrews